May 2023
From the Editors
From within or from behind, a light shines through us upon things, and makes us aware that we are nothing, but the light is all. –Ralph Waldo Emerson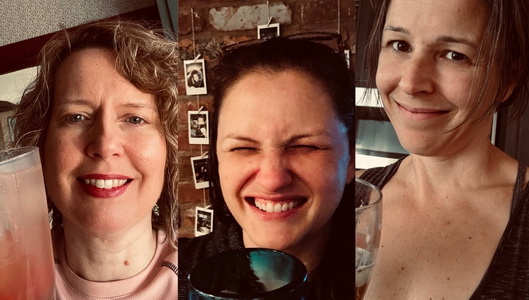 We say goodbye to our third season with three reflections on loss. Issue 27 moves from grief, to regret, and then into a kind of rebirth. The body in Kelly Vance's "Open Casket, 2020" is "a coded message too long to decipher in a single lifetime." There is nothing to decode in the examined betrayal and remorse in "Mostly Sorry," a eulogy of lost love by Susan Wadds. "But there is light, muted yet glistening" shining through Laurie Easter's "Transmute," where in water "floating sand is the mirror of stardust." The light is all. It shines here, in these pieces.
—Claire, Suzanne, Cheryl
---
Join Our Growing Community
We're in our third season here at Waterwheel Review, and we couldn't be happier. But we have big dreams. Right now we have two ways—in addition to being an author or maker—to be a part of our labor of love.
1. Sign up for our newsletter.
You'll know when each issue goes live and learn news about WWR and our authors.
*We promise never to sell or share your information. We hate spam as much as you do. For more info, read our full Privacy Policy.
2. Support literature without labels.
All expenses are out of pocket. Any help goes to our submissions manager and media. We would LOVE to one day pay authors, hold contests, speak at conferences… (slow down, deep breath). Thank you for supporting literature and art!