December 2023
From the Editors
Life changes in the instant. The ordinary instant. —Joan Didion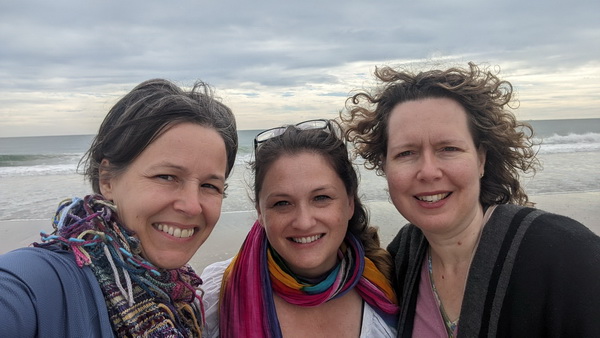 Issue 31 comes in the month of winter solstice—the shortest day of the year, followed by deepest night. Even as the holiday season takes over, midwinter insists on its quiet still moment; a moment to look into the abyss. Look with Jason Ranek and his "Triptych for the Dead," but not without a hold on at least one thought for the sublime: the memory, perhaps, of "a wild currant, its little nova on my tongue." The narrator of Abigail George's "Not Goodbye," a lover on borrowed time, doesn't want to acknowledge the loss and grief that's coming. Don't look, then. Just keep to the sublime—"Touch the story on her lips." Or try looking past the abyss. Look at the moon. "When moon passes overhead, there is a tide that heaves stones up," says Talley Kayser in "Moonsight," a woman who sits in borrowed light, watching for shadowplay.
—Claire, Suzanne, Cheryl
---
Join Our Growing Community
We're in our fourth season here at Waterwheel Review, and we couldn't be happier. But we have big dreams. Right now we have two ways—in addition to being an author or maker—to be a part of our labor of love.
1. Sign up for our newsletter.
You'll know when each issue goes live and learn news about WWR and our authors.
*We promise never to sell or share your information. We hate spam as much as you do. For more info, read our full Privacy Policy.
2. Support literature without labels.
All expenses are out of pocket. Any help goes to our submissions manager and media. We would LOVE to one day pay authors, hold contests, speak at conferences… (slow down, deep breath). Thank you for supporting literature and art!