December 2023 | Issue #31
Life changes in the instant. The ordinary instant. —Joan Didion
Triptych for the Dead | Jason Ranek

Triptych for the Dead
Here lies the old man bent
to the work of dying in a bed
not his own, his toothless mouth
collapsing into the terminal
mask of his face. His scalp
shining like bone china.
His eyes dimmed and rolling back
into a brain woolly with static.
His words smearing to
a moan of every meaning—
a cry from the edge of
the precipice, a postcard from
glimpse into the void. His
toenails clinging …
Read more
Not Goodbye | Abigail George
Not Goodbye
S. talks of suicide.
She cries. I hold her. What else can I do? She's the love of my life and she's in pain so I make her something to eat. She tells me she doesn't deserve me. That she can see she's hurting me. I say she'll feel better after she eats something.
What was she thinking, she asks later, when we're watching television. How can she do this to me, she asks. I tell her to forget all about it. Like it was the first time … Read more
Moonsight | Talley Kayser
Moonsight
I was nine years old when the full moon leapt into my life. It was my first day of wearing glasses, and so my first day of clear seeing. I felt dizzy from so much seeing—from leaves on trees and letters on signs and the sudden complexity of human faces. I was holding my mother's hand as we crossed a dark parking lot, and I glanced up.
I reeled. My mother says I screamed.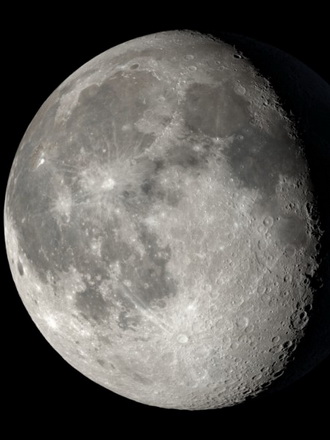 Image of moon on Dec. 1, 2023.