November 2023
From the Editors
The real voyage of discovery consists, not in seeking new landscapes, but in having new eyes. —Marcel Proust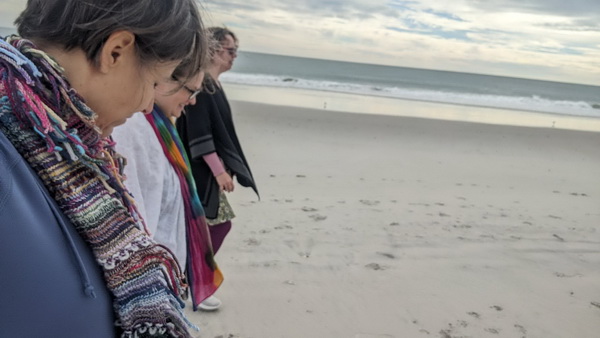 Our November issue is a study of dualities. J.R. Barner gives us "Two Pictures" to contemplate; so simple and spare, this piece, the lightness of the lines like the negative of a photograph, the revealed scaffolding of witness. If a mother could clone herself could the two carry on as one, asks Sara Weiss in "Fish-worm," or is the twinning a lie? Once one becomes two, well; there can be no sameness, now. In "her.story," Annaliese Jakimides poses again and again the before against the now. Between the two—that's where you find the story. Mind that gap. As we move now from autumn to winter, stop for a moment. Consider how one reveals the other.
—Claire, Suzanne, Cheryl
---
Join Our Growing Community
We're in our fourth season here at Waterwheel Review, and we couldn't be happier. But we have big dreams. Right now we have two ways—in addition to being an author or maker—to be a part of our labor of love.
1. Sign up for our newsletter.
You'll know when each issue goes live and learn news about WWR and our authors.
*We promise never to sell or share your information. We hate spam as much as you do. For more info, read our full Privacy Policy.
2. Support literature without labels.
All expenses are out of pocket. Any help goes to our submissions manager and media. We would LOVE to one day pay authors, hold contests, speak at conferences… (slow down, deep breath). Thank you for supporting literature and art!