April 2022
From the Editors
Perhaps there is a language which is not made of words
and everything in the world understands it. —Frances Hodgson Burnett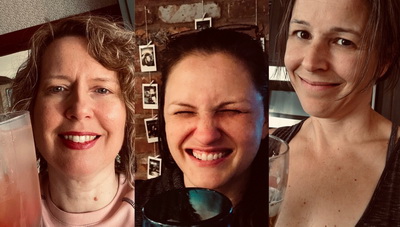 That was not what I meant at all—this line marks the end of the budding romance in "After Uncle Louie Got Me on Some Nights at the Daily News" by Joe Benevento, a piece about laboring in the act of meaning-making, both in a newspaper's printing press and with a Bic pen on a pad of paper. "A Brother Is" to love, says Nancy Huggett, but also to lead you down paths of loving that have no answer for disconnection. Her exquisite paean to a sister's love somehow finds the words. Of birdsong and squawking and chattering "feathery discourse," Jeff Schiff asks in "Bird Say," Has to be meaning in it / right? We think there is meaning in it, yes, and Jeff made still more. There are so many beautiful things we understand without words. And then there is so much beautiful art that exists only because we can name things.
—Claire, Suzanne, Cheryl
---
Join Our Growing Community
We're just getting started here at Waterwheel Review, and we couldn't be happier. But we have big dreams. Right now we have two ways—in addition to being an author or maker—to be a part of our labor of love.
1. Sign up for our newsletter.
You'll know when each issue goes live and learn news about WWR and our authors.
*We promise never to sell or share your information. We hate spam as much as you do. For more info, read our full Privacy Policy.
2. Support literature without labels.
All expenses are out of pocket. Any help goes to our submissions manager and media. We would LOVE to one day pay authors, hold contests, speak at conferences… (slow down, deep breath). Thank you for supporting literature and art!