February 2022
From the Editors
It takes courage to lead a life. Any life. —Erica Jong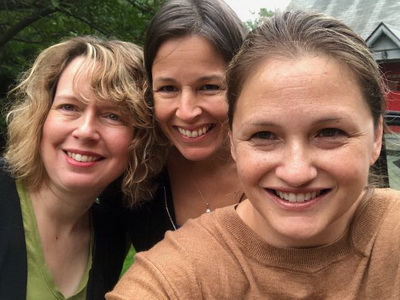 It takes courage to live even a small, unnoticed life, yes. But we learn to source that courage almost everywhere. Navigating simple pleasures and stark realities is what makes a life. In Issue 15, we connect with such pleasures and realities throughout what feels like a linked collection of hint-stories. We think Ayelet Amittay's "Taking Me Back" is all about that "hollow open mouth," but there are other images that inspire different kinds of story. The five bits of narrative in Jeanne Julian's "Last Chance in 53" are through-and-through stark, yet richly imaged reality. With its series of snapshots over the life of a marriage, Lucy Wilde's "Release and Hold Harmless," about the contract we make when we agree to love and lose, completes the collection. Her piece is soaked in heartache but reminds us throughout of why the ache is worth it.
—Claire, Suzanne, Cheryl
---
Join Our Growing Community
We're just getting started here at Waterwheel Review, and we couldn't be happier. But we have big dreams. Right now we have two ways—in addition to being an author or maker—to be a part of our labor of love.
1. Sign up for our newsletter.
You'll know when each issue goes live and learn news about WWR and our authors.
*We promise never to sell or share your information. We hate spam as much as you do. For more info, read our full Privacy Policy.
2. Support literature without labels.
All expenses are out of pocket. Any help goes to our submissions manager and media. We would LOVE to one day pay authors, hold contests, speak at conferences… (slow down, deep breath). Thank you for supporting literature and art!