January 2022
From the Editors
Truth comes only infrequently and only in flashes. —Pamelyn Casto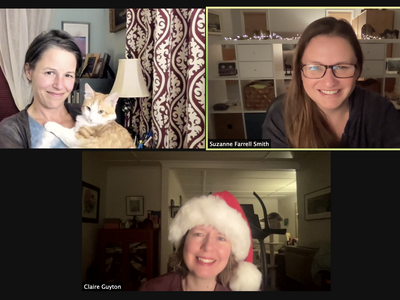 Truth pushes to the surface from the start of Ron Riekki's "idiopathic" as well as in "Movement," by Ace Boggess, two otherwise very different flashes of beauty. The longer "Greenwich Origin Story," by Joanna Theiss, keeps its truth hidden until the quiet, unspoken end. Each piece signposts radically different human experience, and our companions highlight the contrasts in tone, particularly the two songs. Issue 14 is a game of emotional ping pong. In real life, no thank you. In art? Give me the bounce, the pop, the smash. Give me flight.
—Claire, Suzanne, Cheryl
---
Join Our Growing Community
We're just getting started here at Waterwheel Review, and we couldn't be happier. But we have big dreams. Right now we have two ways—in addition to being an author or maker—to be a part of our labor of love.
1. Sign up for our newsletter.
You'll know when each issue goes live and learn news about WWR and our authors.
*We promise never to sell or share your information. We hate spam as much as you do. For more info, read our full Privacy Policy.
2. Support literature without labels.
All expenses are out of pocket. Any help goes to our submissions manager and media. We would LOVE to one day pay authors, hold contests, speak at conferences… (slow down, deep breath). Thank you for supporting literature and art!