November 2021
From the Editors
I've learned that people will forget what you said, people will forget what you did, but people will never forget how you made them feel. — Maya Angelou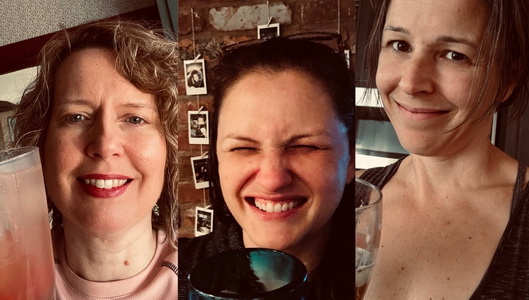 The leaves have mostly dropped. We're rummaging for scarves and gloves while a shade or two of melancholy settles into the day's gaps. The perfect framing, we think, for three sad-sweet pieces about connecting, somehow, through a disconnect. In Peggy Hammond's piece, the mystery caller's number is blocked… but the need and hope come through. Madeleine Mysko's revelation of shared vision between a mother and her grown daughter both startles and soothes. And Kate Senecal's loyal guard dog stands in for who's missing and what's not being said. Easy or fraught, brief or enduring, simple or complicated—it's a meditation on human connection, this issue. We're particularly happy to share it now, before the holiday season, in these few weeks of autumn quiet.
—Claire, Suzanne, Cheryl
---
Join Our Growing Community
We're just getting started here at Waterwheel Review, and we couldn't be happier. But we have big dreams. Right now we have two ways—in addition to being an author or maker—to be a part of our labor of love.
1. Sign up for our newsletter.
You'll know when each issue goes live and learn news about WWR and our authors.
*We promise never to sell or share your information. We hate spam as much as you do. For more info, read our full Privacy Policy.
2. Support literature without labels.
All expenses are out of pocket. Any help goes to our submissions manager and media. We would LOVE to one day pay authors, hold contests, speak at conferences… (slow down, deep breath). Thank you for supporting literature and art!